SRP Home &nbsp &nbsp Journal &nbsp
Paddling Squaw Creek:
Another Skunk River Paddlers' Ice Breaker Paddle
March 24, 2001
Only the determined would have been interested. Paddling with flurries, 23 degrees, howling cold wind amplified by the trees along our way, and colder water, is clearly not for everyone. It certainly was not for the poorly equipped. Nevertheless, Rick and I set off.
Our wetsuits, mukluks, and neoprene gloves as well as our paddling jackets, life vests and hats were just enough to get us on through the 7 to 8 mile day we had before we arrived at our takeout. The wooded bluffs along a good bit of our paddle protected us from the worst of the wind. The sometimes rocky stream was a legacy of the last glacier. It was mostly silent, except for the wind in the trees, the water over rocks and the noise that we created with our paddles. There was also the unusual sound of the cracking of the ice on the edge of the water as we went downstream, caused by the riffles our boats made on the water.
A series of riffles and curves with occasional downed trees keep us attentive. After a while, the ice collected on the tips of our gloves. Still we paddles on, rounding a bend, with the first downed tree that blocked our way. It was time for a stretch anyway, up from our low perch in our white water kayaks. Even better, it was a great time to briefly warm our fingers with a hot cup of Russian tea, thoughtfully packed away in Rick's thermos. The warmth in our cups brought some comfort to our fingertips. We were careful not to spoil this relief too quickly when we put our gloves back on by keeping our gloves close to our chest in the meanwhile.
Paddling, along with a few portages later, we were eventually back at our take out bridge. Hawks, eagles, and herons were part of our reward for our efforts. The woodpeckers, robins, geese, and assorted ducks added their bit too. The blue bird sightings were a special treat. So too were the two beavers that we came upon as they spilled out of their lodge.
Gregory Vitale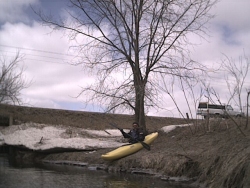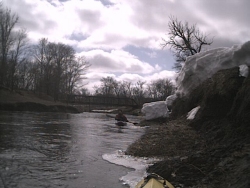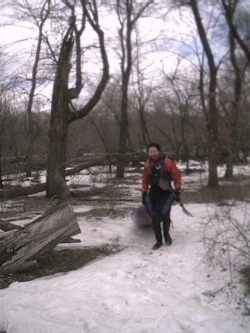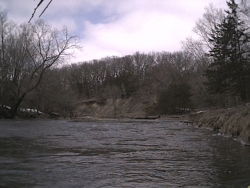 ---
E18 to 190th St, 3 hours
Streamflow 450 cfs
Temperature low 20's
Created on ... March 24, 2001