Turkey River, &nbsp May 11-13
SRP Home &nbsp &nbsp Journal &nbsp
Four able paddlers, Robin, Bob, Rick and Greg arrived at Motor Mill and quickly set camp. And a quiet camp it was. There was virtually no wind, clearly demonstrated by the most perfectly rising smoke from our fire. The air carried no sounds of traffic or civilization.
After a good sleep and a hardy breakfast at Johnsonís Supper Club, we put in at the 10-mile bridge upstream from Big Spring Trout Hatchery. Not the best access at 3775 cfs, but clean and serviceable.
Just below Big Spring we saw an eagle nest complete with eaglet and parents. It's likely no accident that they're within a quarter mile of the hatchery. Turkey, deer, muskrat, and turtles were also seen, and Black-capped Chickadees and Common Yellow Throats were seemingly ever present.
With cool temperatures, a strong current, and no sand or gravel bars on which to stop, the first section went quickly. We arrived at Elkader and set out to scout our portage. Any apprehensions about the five-block portage through downtown dissolved as Scott Bahls, local businessman and Turkey-hunter, offered us a shuttle.
Now ahead of schedule, we hit the ATM, picked up batteries for our cameras, checked out the old Opera House/City Hall, the Keystone Arch Bridge, and the oldest family run grocery store in Iowa. While having a beer at Alís Stake and Stein, we thought it would be thoughtful to get a gift certificate at Alís for our new friend, Scott, and send it to him as a playful way to thank him for his kindness. This entailed a walk to the post office. Afterwards we stopped by the Subway shop, then had a bit of a picnic at our put-in, a city park below the dams.
The river below Elkader seemed to have the greatest rate of fall and the 5 miles to Motor passed quickly. Back at Motor, we hiked up the trail behind the Cooperage building to have a look at the quarry from which the limestone was taken. The quarry is not so obvious after 140 years, but we were treated to many wildflowers in bloom. Hoary Puccoon was among them, suggesting the limestone ridge had once been prairie.
The section below Motor features many limestone outcroppings, many of them home to large White Pines. Birch can also be seen in good numbers. If you're alert you'll see a small creek entering from river left opposite a pine-covered bluff. Take the time to check it out.
Wildflowers seen along this section or at Motor included Showy Orchids, May Apples, Jack-in-the-Pulpit, Sweet Sicily, Wild Geraniums, Columbine, Violets, Rue Anemone/False Rue Anemone, Pussy toes, Sweet William, Bishopís Cap, Iris, and Bloodroot.
Goldfinches, Belted Kingfishers, Red Eyed Vireos, Pileated Woodpecker holes, Orioles, Great Blue Herons, Turkey Vultures, Mud Swallows and two families of beavers (with kits) were also seen between Motor Mill and our takeout at Garber.
May is a great time to Explore the Turkey .

G.V./SRP
---
<!-(horizontal rule)->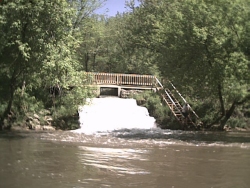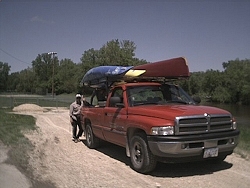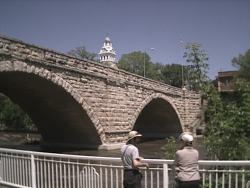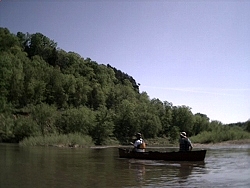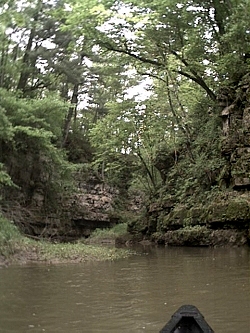 ---
<!-(horizontal rule)->

At streamflows of approximately 3775 cfs (Saturday) and 3450 cfs (Sunday) the river moved along. There were no exposed sand or gravel bars and few places to stop. Streamflows were calculated by subtracting the Volga River flow at Littleport from the Turkey River flow at Garber.

Ten mile bridge to Elkader, ~2 1/2 hours; Elkader to Motor, ~1 hour; Motor to Garber, <3 hours.
---
<!-(horizontal rule)->

Central Iowa Paddlers May 11-13 Turkey River

Paddle the ďdriftless areaĒ of Clayton County, an area missed by the last glacier and that retains a more rugged and interesting topography than most of Iowa. We are camping on the river at historical Motor Mill Park, just six miles from Elkader. Historic Motor Mill Park has the tallest mill in the Midwest. Camping is primitive with pit toilets. There are no showers. Water is available at the rangerís house.

Take state highway 13 to the east side of Elkader. Turn east on county road C1X (Grape Rd, which is also the road to the airport) until you come to Galaxy Rd (about 3-4 miles), where there is a dark brown park sign at the corner and head south (about 3 miles) to the camp ground. You must enter the campground from the north because the bridge from the south washed out. Anticipate about a four-hour drive from the Des Moines metro area. And take a map. It will serve you well if these directions are not quite right.

We will paddle both Saturday and Sunday. Saturdayís paddle will likely entail a portage around the dams in Elkader down main street. The up side is that we can eat a good lunch or at least a snack as we portage through town. Think of the picture this will make. So bring a pack to carry all your boat gear. Assistance will be there for those that might need a hand carrying their boat through the four or so blocks of Elkader.

It is a rain or shine adventure, but all of this is subject to change based on the water flows at that time. So be sure to first contact Greg at 663-9251 or at vitol@tebra.net or Rick at 232-1484 or at rsdietz@ames.net. Hope to see you there.
---
<!-(horizontal rule)->

Explore the Turkey River, "A canoer's guide between Clermont/Elgin & Motor Mill", a brochure by the Fayette and Clayton County Conservation Boards (map, 242 kb)

Turkey River guide http://www.claytoncounty-iowa.com/turkey.asp

Streamflow Gauge at Garber
http://webdiaiwc.cr.usgs.gov/rt-cgi/gen_stn_pg?station=05412500 (USGS) http://water.mvr.usace.army.mil/cgi-bin/mp/grbi4.cgi (USACE)

Clayton County Conservation Board Osborne Outdoor Education Center Park,
Don R. Menken, (319)245-1516
29862 Osborne Road, Elkader, IA 52043

Clayton County Attractions & Recreation http://www.claytoncounty-iowa.com/attractions.asp

Eastern Iowa Links http://www.easterniowatourism.org/links.htm

NE IA State Park Info http://www.profiles.iastate.edu/data/resources/parks.asp?sCounty=19065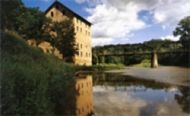 Motor Mill on Turkey River
(photo from Tours and Trips,
Clayton County, IA)